How to Create and Edit DNS Zone Files?
What is a DNS Zone Editor in a cpanel?
It is a the feature where we can update DNS records such as A record, CNAME record, MX record, SPF record, DKIM records, etc. To set up DNS records for your domain, cPanelhosting provides an easy DNS Zone Editor and an Advanced DNS Zone Editor. They both have similar functionality, and each permits you to define A and CNAME records. Mostly, the Advanced DNS Zone Editor allows you to set up TXT records.
What is the purpose of a website hosting cpanel?
cPanel is a web-based hosting control panel offered by several hosting providers to website owners permitting them to manage their websites from a web-based interface. This program provides users a graphical interface from that they'll manage their portion of the Linux Dedicated Server.
Steps to add DNS record in a cpanel:
Step-1: Login to the cpanel
Step-2: The Zone Editor will look like the below screenshot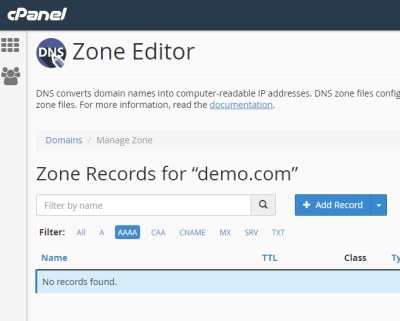 Step-3: If you want to add any DNS records first you need to select the domain and then you need to click on the add record option and select the record type which you want to add, fill the details and click on save.
Note: You can click on the manage option to view the DNS settings which is already applied to your domain name.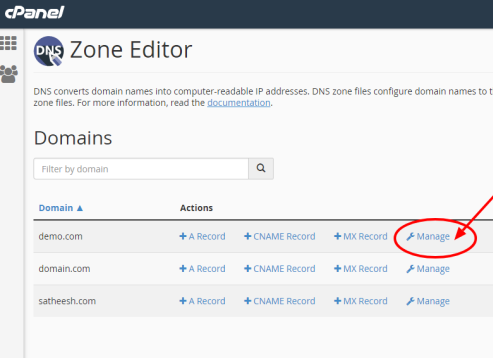 Step-4: Once you click on the manage option all the DNS records of the domain will be displayed as mentioned in the below screenshot.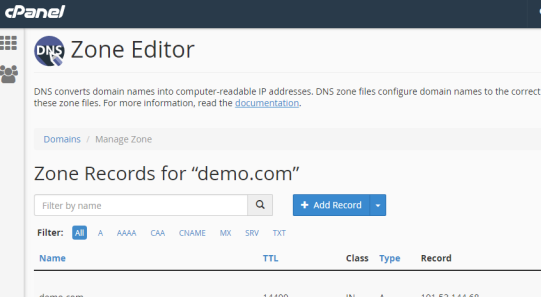 Step-5: Click the Add Record drop-down menu button and select the option for   the record you would like to add.
Step-6: Recognize the page which includes fields to enter the details for the new record at the top of the list. Enter the details of the records in the required fields.
Step-7: Save your new record by clicking on the Add Record button.