Linux Host Service - Backup in cPanel
Backup in a cPanel can be very useful for a website. You can use this feature for transferring of the website to a new host. If there is a change that needs to be made in the website files or databases, then a backup can be created for the website. Hence if there is anything wrong that happens in the website while editing you can always restore as it was before.
Creating a Full Backup
A full backup creates a zipped copy of the entire website and the cPanel account as well. It will include all the files that you own and also the files on which you have an access. It will include all the database, email account, email list subdomain as well.
One should remember that a full backup cannot be restored through a cPanel interface. It can be used when you are transferring the web host. You have to upload this zipped backup into the hosting directory and then as the hosting provider for restoring it.

Partial Backup through cPanel
A partial backup can be created as well as downloaded instantly. Through a partial backup you will be able to download the home directory, the databases, email forwarders as well. You will be able to restore the downloaded backup any time by uploading them into the cPanel by usage of the same server.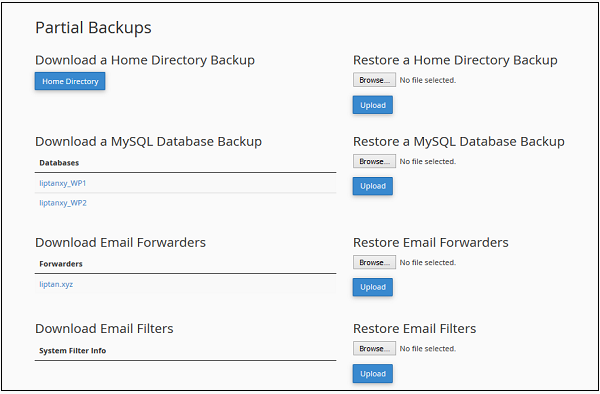 You need to click on the Home Directory button so as to download the home directory backup. For restoration of the home directory, you will have to upload the same file in the right side interface on which estore a Home Directory Backup is written.