How to change the main password for your account?
Should you need to change your password on a regular basis?
Cybersecurity risks have increased and hacking technologies have improved a lot over the past 10 years. So, using the same password for a long time will put your account security in danger. The practice of changing passwords often continues to be a standard security measure suggested by some IT specialists. Scheduled password changes are usually considered as a good practice to prevent snoopers from gaining access to your accounts and tracking your activity over an extended period of time.
In your website there is a sensitive and important data is stored in your C-panel and keeping your website and data related to the website safe should be the top priority. Hence changing the password for your account regularly help you to prevent keep your account safe from major cybersecurity attacks which happen due to weak or stolen passwords. A Web hosting cPanel is an efficient way to manage your website. cPanel is the right place to manage the website. The Cpanel feature like password and security will help you handle the password by allowing you to change the password frequently.
Some of the things you should remember while changing the Password
>> Using the password which  you have used before is not recommended/should not be practiced
>>Try not to use the password which you have used for other accounts, for example, the password which you have used for your email account should not be used for your c-panel
>>Avoid using the variants of old password because it could be easier for the hacker to hack the password
>>Always use a unique and strong password. You can always use a password generator for generating your password
>>Try using Multiple character classes in your password that by using number, letters in upper case and the lower case could increase the security and also avoid the possibility of getting hacked. An example for  Multiple character classes password: P1a4s6W79HG - this will be a strong password
>>You should avoid saving the passwords in your device because when you change or lose the device another person can get access to your account
Some of the reason why you should the Password Regularly
Changing the password regularly could reduce the risk of hackers accessing your account frequently

When the password is changed regularly, when the old password hacked or if someone finds the old saved password from your lost or old device it won't be useful

Regularly changing your password makes keystroke logger less likely that passwords obtained this way will be useful for a long time.
Follow the below steps to reset your password from cPanel:
Step 1: Login to your cpanel of your website hosting
Step 2: After you login into C-panel >> Select Password & Security under preference section

Step 3:  After you click on password & Security >> click  on the change password and the change password page, fill in the details like:
==>Enter your old password
==>Enter the new password
==>Confirm the new password
==>Click on Change your password now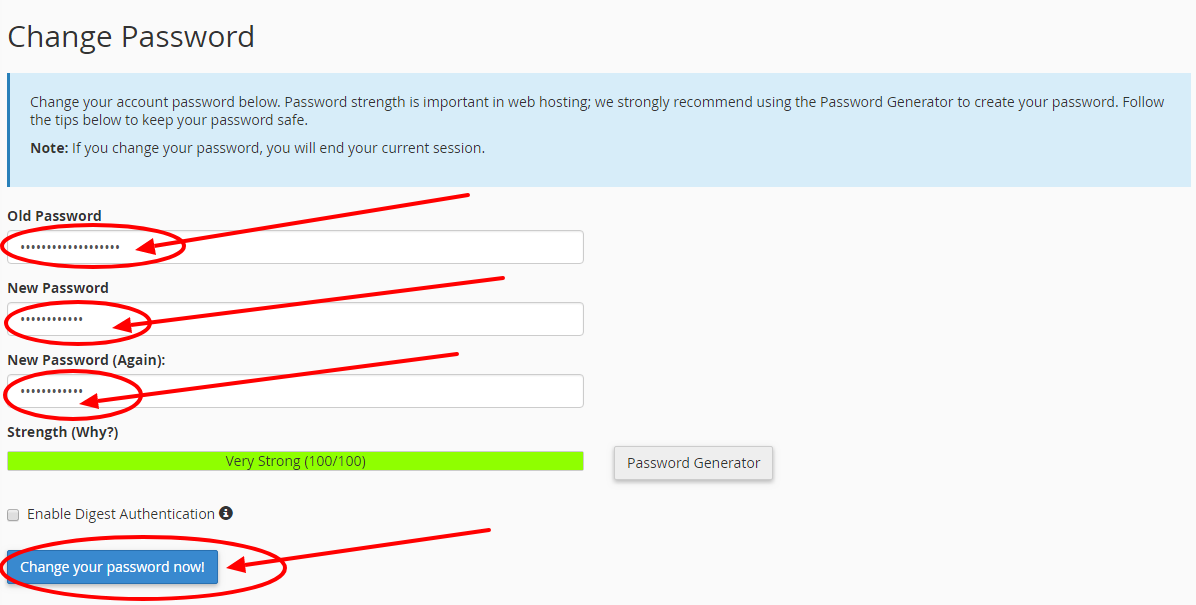 Step 4: After you click on change password >> your password will be changed and will look like the below screenshot.

If you are facing any issue while changing the password of your account using your cPanel hosting account, feel free to contact our support team via live chat, email, toll-free or ticket system and our support team is available 24/7.
You should make sure that you change the password every 30 days to ensure better security. And also you should remember to take backup your account in a local system which helps when lose your files.