Managed Virtual Machine Vs unmanaged Virtual Machine difference in HostingRaja?
In simple words, VPS hosting is when a hosting company takes a large server and split-ups it so that they can create several virtual servers on it, each virtual server comes with its own operating system and can be managed and rebooted separately. Sounds simple and easy enough. So let me now explain about the differences between managed VPS and unmanaged VPS hosting.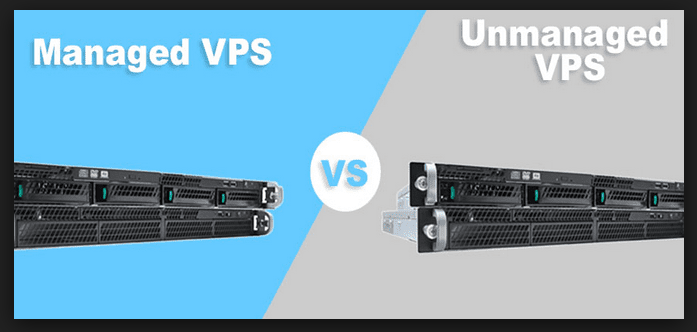 Managed Virtual Machine
A managed VPS hosting lick Windows VPS Hosting or Linux VPS Hosting is perfect solution for the users who are not technically experts or are not having knowledge of technical stuffs since all the technical stuffs will be taken care by web hosting company. In simple words your select hosting provider i only responsible for administering the server related tasks  containing server upgrades, deployment and other important tasks you are supposed to do to function your website.


Once you buy Managed VPS hosting package from a top web hosting provider like us, we will manage your server and you will be provided with administrative privilege via an easy to use control panel tool so that your can do whatever you wish to do with your website and we will take care everything and make sure that your website is running properly, has updated software/applications as well as security related stuffs will be taken care by your selected VPS hosting provider.


Unmanaged Virtual Machine
Unmanaged VPS hosting is totally different from managed VPS hosting in many ways. One of the major fact about unmanaged VPS hosting is that the hosting provider is only responsible for providing you with VPS server ad everything else is handled by you only. It is similar to buying a new physical web server, take it home, start the server based on your needs. The only responsibility of your hosting provider is to make sure your unmanaged VPS server is running all the time. You are responsible for server configuration and other related stuffs.


After reading about unmanaged server you can assume that this is not an easy task for average users, if you have technical skills and knowledge you can easily do it or else it is better to opt for managed VPS server hosting solution so that you can fully concentrate on your online business.


Unmanaged Virtual Machine VS managed Virtual Machine Explained
Differentiating the 2 options is simple since managed VPS hosting solution comes with numerous of advantages and benefits as compare to unmanaged VPS hosting.


Price: In the past days there was significant difference between unmanaged VPS and managed VPS services but nowadays this is not the situation. Now you can get managed VPS hosting at affordable rates from HostingRaja and charges are almost similar to unmanaged VPS hosting.


Technical Skills: If you opt for managed VPS hosting, you no need to have technical skills or knowledge to run and manage your server. Whenever you want to perform any server related task all you need to do is contact your hosting provider and their technical person will do all the necessary changes and tasks for you.


Time: When you buy a managed VPS hosting server, it just takes few hours to make it accessible and live in proper way but if you buy unmanaged VPS server, it may consumes numerous of hours to setup, install and configure server manually by you.


Security: The security and protection of a website begins from the server side and in case you do not use the best implementations, your website will be opened for security concerns. If you VPS server is managed by best hosting provider, you will have an extreme level of security and protection.


Planning to purchase managed VPS hosting for your website! Contact our sales team today with your requirements via live chat or toll-free:1800-258-8000.