hostingraja name server or hostingraja nameservers

Below are the name-servers details of "Hostingraja".
When you buy hosting space or server form us like WordPress hosting, vps server or dedicated server , You need to update the name server to your domain name.  For example, If your domain name is My-New-Business.com, then the name servers of this domain should point to our server to make your website work.  The DNS stands for Domain name server and the server details are needed to be entered in the server configuration. Unless the DNS server details are updated into the server the domain name cannot be accessed. Once the domain name is updated into the server. It takes around 24 to 48 hours to propagate globally. The named server details for the Hostingraja is as below.

Refer email with subject: "Hosting New Account Information" to know the name server details of your hosting account/VPS/Dedicated. The email will look like the below shown image. If you are not able to get it, please raise ticket, We will help you.


This is Welcome email you received from the HostingRaja support team, From the Welcome Email, you can get the entire details of your account. For example Nameserver, Cpanel login credentials etc.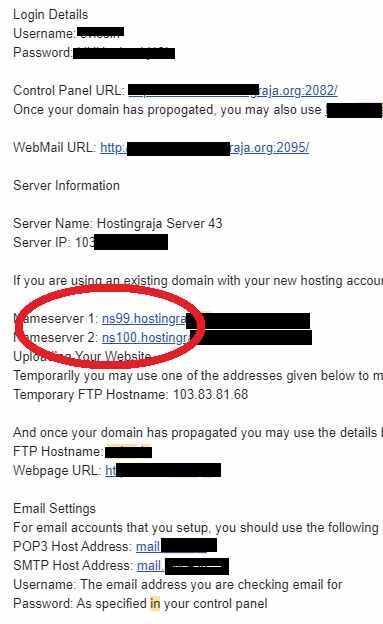 You can refer and update the name-servers as per your Host-name gave in "Hosting account welcome email".
==>Hostname: Windows Server 05
Name-servers:
1. ns53.hostingraja.in
2. ns54.hostingraja.in
==>Hostname:
Windows Server 06
Name-servers:
1. ns55.hostingraja.in
2. ns56.hostingraja.in
==>Hostname:
Windows Server 07
Name-servers:
1. ns57.hostingraja.in
2. ns58.hostingraja.in
==>Hostname:
Windows Server 08
Name-servers:
1. ns63.hostingraja.in
2. ns64.hostingraja.in
==>Hostname:
Windows Server 09
Name-servers:
1. ns67.hostingraja.in
2. ns68.hostingraja.in
==>Hostname:
Windows Server 11
Name-servers:
1. ns25.hostingraja.in
2. ns26.hostingraja.in
==>Hostname:
Windows Server 12
Name-servers:
1. ns79.hostingraja.in
2. ns80.hostingraja.in
==>Hostname:
Windows Server 13
Name-servers:
1. ns43.hostingraja.in
2. ns44.hostingraja.in
==>Hostname:
Windows Server 14
Name-servers:
1. ns89.hostingraja.in
2. ns90.hostingraja.in
==>Hostname:
Windows Server 15
Name-servers:
1. ns105.hostingraja.in
2. ns106.hostingraja.in
==>Hostname:
Windows Server 16
Name-servers:
1. ns113.hostingraja.in
2. ns114.hostingraja.in
==>Hostname:
Linux Server 07
Name-servers:
1. ns13.hostingraja.org
2. ns14.hostingraja.org
==>Hostname:
Linux Server12
Name-servers:
1. ns29.hostingraja.in
2. ns30.hostingraja.in
==>Hostname:
Linux Server 13
Name-servers:
1. ns31.hostingraja.in
2. ns32.hostingraja.in
==>Hostname:
Linux Server 14
Name-servers:
1. ns33.hostingraja.in
2. ns34.hostingraja.in
==>Hostname:
Linux Server 15
Name-servers:
1. ns39.hostingraja.in
2. ns40.hostingraja.in
==>Hostname:
Linux Server 17
Name-servers:
1. ns69.hostingraja.in
2. ns70.hostingraja.in
==>Hostname:
Linux Server 18
Name-servers:
1. ns49.hostingraja.in
2. ns50.hostingraja.in
==>Hostname:
Linux Server 20
Name-servers:
1. ns61.hostingraja.in
2. ns62.hostingraja.in
==>Hostname:
Linux Server 22
Name-servers:
1. ns51.hostingraja.in
2. ns52.hostingraja.in
==>Hostname:
Linux Server 25
Name-servers:
1. ns59.hostingraja.in
2. ns60.hostingraja.in
==>Hostname:
Linux Server 27
Name-servers:
1. ns65.hostingraja.in
2. ns66.hostingraja.in
==>Hostname:
Linux Server 29
Name-servers:
1. ns71.hostingraja.in
2. ns72.hostingraja.in
==>Hostname:
Linux Server 30
Name-servers:
1. ns73.hostingraja.in
2. ns74.hostingraja.in
==>Hostname:
Linux Server 32
Name-servers:
1. ns3.hostingraja.com
2. ns4.hostingraja.com
==>Hostname:
Linux Server 33
Name-servers:
1. ns77.hostingraja.in
2. ns78.hostingraja.in
==>Hostname
: Linux Server 34
Name-servers:
1. ns81.hostingraja.in
2. ns82.hostingraja.in
==>Hostname:
Linux Server 35
Name-servers:
1.ns83.hostingraja.in
2. ns84.hostingraja.in
==>Hostname:
Linux Server 38
Name-servers:
1. ns87.hostingraja.in
2. ns88.hostingraja.in
==>Hostname:
Linux Server 39
Name-servers:
1. ns91.hostingraja.in
2. ns92.hostingraja.in
==>Hostname:
Linux Server 40
Name-servers:
1. ns93.hostingraja.in
2. ns94.hostingraja.in
==>Hostname:
Linux Server 42
Name-servers:
1. ns95.hostingraja.in
2. ns96.hostingraja.in
==>Hostname:
Wordpress Server
Name-servers:
1. ns97.hostingraja.in
2. ns98.hostingraja.in
==>Hostname:
Linux Server 43
Name-servers:
1. ns99.hostingraja.in
2. ns100.hostingraja.in
==>Hostname:
Linux Server 44
Name-servers:
1. ns101.hostingraja.in
2. ns102.hostingraja.in
==>Hostname:
Linux Server 45
Name-servers:
1. ns103.hostingraja.in
2. ns104.hostingraja.in
==>Hostname:
Linux Server 46
Name-servers:
1. ns107.hostingraja.in
2. ns108.hostingraja.in
==>Hostname:
Linux Server 47
Name-servers:
1. ns109.hostingraja.in
2. ns110.hostingraja.in
==>Hostname:
 Linux Server 48
Name-servers:
1. ns111.hostingraja.in
2. ns112.hostingraja.in
==>Hostname:
Java Server 01
Name-servers:
1. ns41.hostingraja.in
2. ns42.hostingraja.in
==>Hostname:
Java Server 02
Name-servers:
1. ns47.hostingraja.in
2. ns48.hostingraja.in
If you need any assistance in this regard, you can contact us at https://support.hostingraja.in/