Linux - How do i leave a copy of sent item from MS Outlook
Websites plays a significant role in every business and help them to grow their connection on the internet by taking their website all over the world. And today if you have a website then through that you can easily showcase your business services and products to the people around the world. And today most of the people would like to choose Linux operating system for their website because it is cheap and you also get more amazing features. So today, if you are looking for an information on How do you leave a copy of a sent item from MS Outlook in the server then here, is the complete solution. 
By default, client email application such as Microsoft Outlook will remove your email messages from the mail server once the application ( Outlook ) downloads them, and they are no longer accessible via webmail, but can only be available on the local computer where Outlook is installed. This article will assist you in setting up Microsoft Outlook to leave a copy of the messages on the hosting server.

To enable the Leave a copy of the message on the server option, follow these steps:


Open Outlook.

Click the File tab > Account settings.

Click on your current POP3 email account and click Change.

Note: The window that opens will tell you what type of email account you have.

Choose More settings and click on Advanced.

You should see a check box titled: Leave a copy of messages on the server.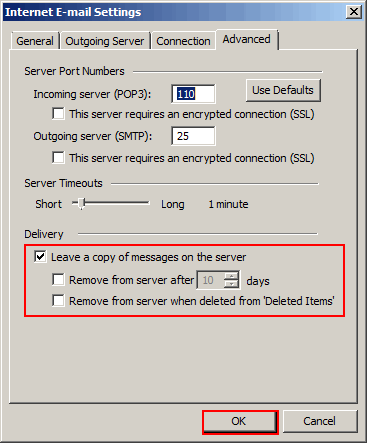 Checking the box will enable Leave a copy of the message on the server.
Note: Enabling Leave a copy of the message on the server will allow you to access your email from multiple computers.

If you are new to websites and web hosting then Linux shared hosting is one of the best options to start with. Because here at HostingRaja we provide best Linux shared hosting option with all your website requirements and also with the resources. We also provide web hosting offers upto 55%. So what are you waiting for get your website online with HostingRaja web hosting service today!