How to Install SSL for particular Domain
Today if you are using a website for your business or for your personal then it is one of the best ways to branding and showcasing your skills and your business products and services. And today if you are handling a website where it deals with your customer's personal credential information then your website should be secured. And to secure your website all you need to do is install the SSL certificate in your website and to install the SSL certificate on your website you need to contact our support team and they will install the SSL certificate for you.
SSL is the backbone of our secure Internet and it protects your website. SSL stands for Secure socket layer, it is used for establishing an encrypted link between the web server and a browser. SSL Certificates are small data files that digitally bind a cryptographic key to an organization's details. When installed on a site, it activates https protocol and allows secure connections from a web server to a browser. SSL is used to secure credit card transactions, data transfer, and logins.
No matter how big or reputable company you have if your website is showing insecure then it is sure that you will lose customer's trust. To win the customer trust, securing your website becomes essential, for this, you should install SSL.
The server creates two cryptographic keys - a private key and public key. The public key is placed in the CSR.CSR is a data file which consists of your details and this should be submitted during the SSL certification application process and your details will be validated by the certificate authority and you will be provided with SSL certificate containing your details and allowing you to use SSL.ANd this issues SSL certificate will be matched with your Private key after the server will establish an encrypted link between the browser and the website. All these processes will be invisible to the customer and in the browser, they will view secure symbol to let them know that their connection s encrypted
Generally, an SSL Certificate will contain the domain name, company name, address, city, state, and country, also the expiration date and details of the Certificate Authority responsible for the issuance of the certificate. And when the browser connects to this secure website, it checks the certificate and if all details are matched then it displays secure symbol else if it fails it will display a warning in the browser saying that the website is insecure.

A website after SSL installed will be as shown below:

If you have purchased SSL certificate for your website so that your customers can have the secured transactions. And if you want to install the SSL certificate then you need to contact our support team so that they will update the SSL certificate on your website.
The shared server customer can generate CSR file in cpanel and installation process is server-side support team. The customer generates CSR file and with this CSR certificate, your SSL provider will generate the private key and CRT & CRT bundle which will be used to for installing SSL for a domain. So you need to provide CRT, CRT bundle and private key for installing SSL to Server-side support team.
If activate OR install the SSL certificate for domain name kindly contact our support team so that they
Steps to generate CSR file in your cpanel:
Step 1: Login into cpanel >> search and click on SSL/TLS under security option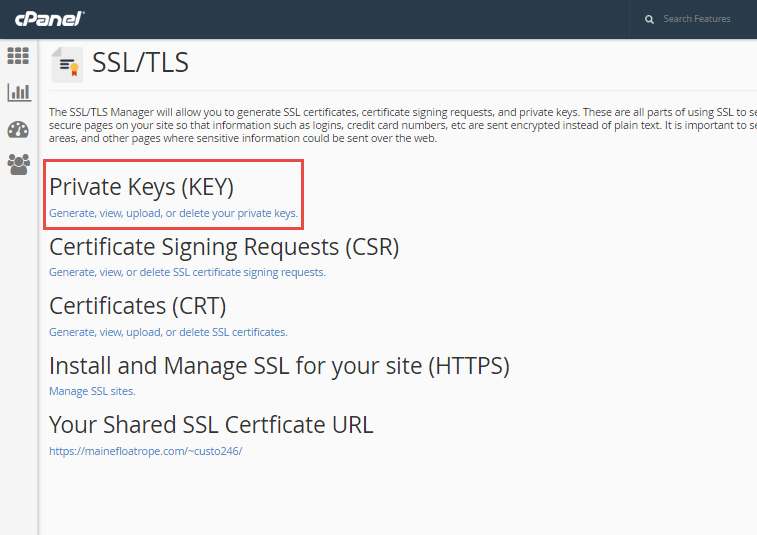 Step 3:After click on CSR in next page >> Under Certificate Signing Requests (CSR) menu >> Click on Generate, view or delete SSL certificate requests
Step 4: On the Generate a New Certificate Signing Request (CSR), You need to enter the details the appropriate information for generating the CSR code and click on submit
Step 5: After you click on the Generate button >> in you will get newly generated CSR code.
This Encoded CSR(Certificate Signing Request) used to activate the Certificate purchase with other SSL certificate provider
Note:
When you are submitting the code for SSL activation, make sure you include  -----BEGIN CERTIFICATE REQUEST----- and -----END CERTIFICATE REQUEST-----
If you need any assistance, feel free to contact our technical team members as they are available 24/7 via phone call, chat, ticket system.
If you are looking to buy an SSL certificate for your website then here at HostingRaja we provide FREE SSL certificate with our VPS hosting plan. And if you are looking forward to buying an SSL certificate then you can contact our Sales team where they will brief you on our SSL certificate packages.