HR Panel server time
This feature is helpful to set the server time with number of available time.This helps when someone calls it any part of the code.
This helps providing the standard time all over the server.
Simply select the required time zone and click on change.
The server time module interface looks as below.

This server time is as simple as it looks
Select the time zone out of  number of available zones.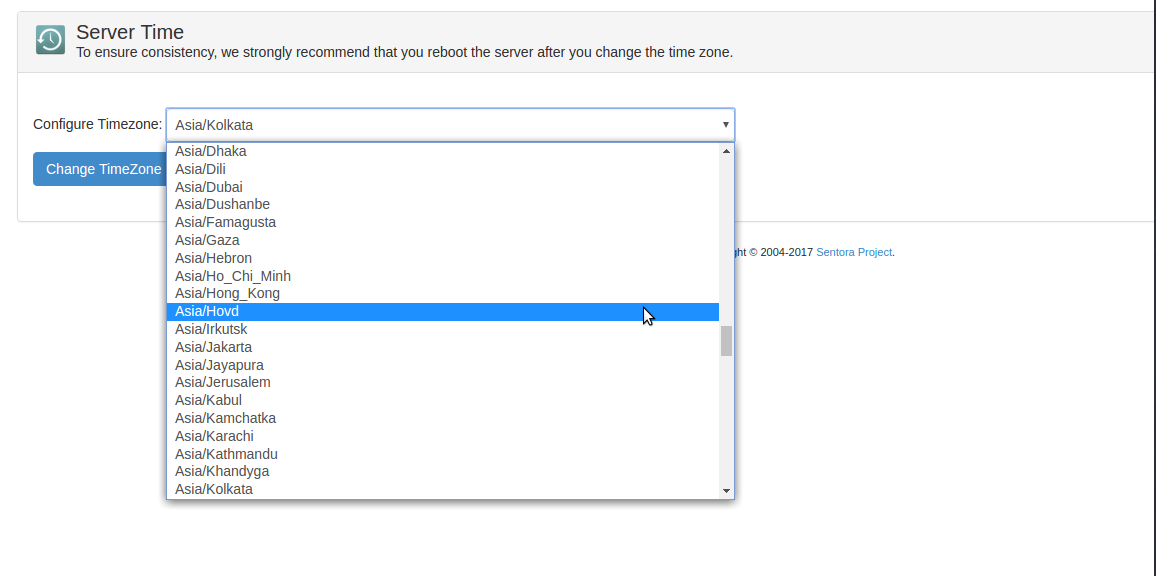 Then select the required time zone and click on change time zone.
The Importance of Time Synchronization for Your Network.
In modern computer networks time synchronization is critical because every aspect of managing, securing, planning, and debugging a network involves determining when events happen.  Time also provides the only frame of reference between all devices on the network.  Without synchronized time, accurately correlating log files between these devices is difficult, even impossible.  
Following are just a few specific reasons:
Tracking security breaches, network usage, or problems affecting a large number of components can be nearly impossible if timestamps in logs are inaccurate. Time is often the critical factor that allows an event on one network node to be mapped to a corresponding event on another.
To reduce confusion in shared filesystems, it is important for the modification times to be consistent, regardless of what machine the filesystems are on.
Billing services and similar applications must know the time accurately.
Some financial services require highly accurate timekeeping by law. 
Sarbanes-Oxley and HIPAA Security Rules both require accurate timestamping.

For the best server uptime you can choose HostingRaja's windows hosting. Which comes at an affordable price with amazing features and offers.