Addon Domain

Addon domain is a secondary domain which can be found within primary domain account in HR Panel. The functionality of an addon domain name is it allows you to essentially create additional hosting services, websites, within the same HR panel as your primary domain. This means you can create multiple websites, email addresses and email forwarders under a single HR panel but on separate domain names without having to pay additional monthly fees for multiple web accounts.
Advantage of using Addon Domains:

1. When you add an addon domain to a hosting account, you are saving money because you don't need to sign up for another web account. The same hosting package you have can host more websites depending on what it limits you to. Actually, this is the biggest advantage of using addon domains.
2. This is useful if you operate, or plan on creating, more than 1 website that only has minimal traffic and may not require an entire cheap web hosting India service to itself.
3. This provides not only a great platform for the hosting of multiple websites but also saves you a small fortune along the way.
4. All addon domains share the resources applicable to the primary domain name.
5. To gain the SEO benefits, several sites can be easily promoted from the single hosting account using full benefits of different sets of keywords.


Steps to create Addon Domains:
>>> First you need to enter a domain hosting and select a home directory, you can select either Create a new home directory or  Use existing home directory as per your convenience.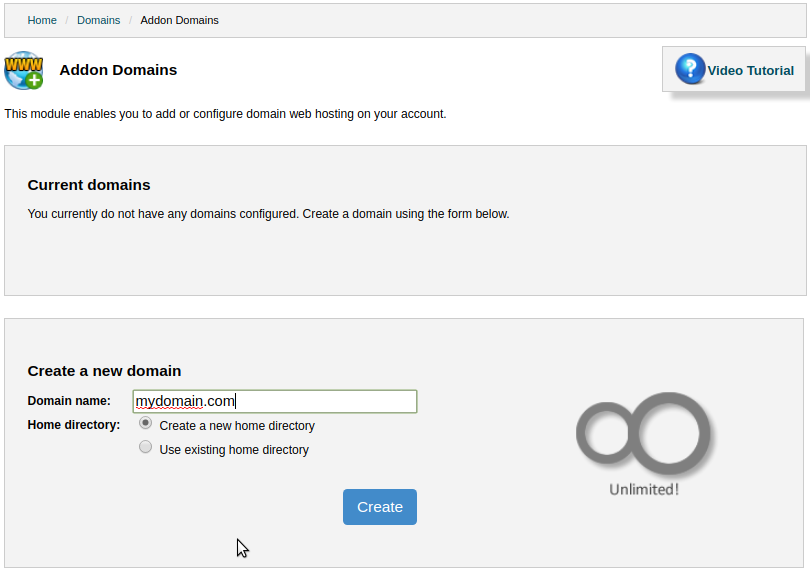 >>> Log into your HR panel and Click on Addon Domains
>>> Now in here you need to type the domain name that you want to add as a subdomain
>>> Next, you need to choose the Home directory as per your requirements, If you want to have a new directory then you can click on - Create a new home directory
Or you can also you can also use an existing home directory for your new add-on domain name.
You can even use Manual Config where you can set the path of your directory which you want to display on your website.
>>> Now once after creating the add-on domain and now if you want to edit your Home directory, you can do so by clicking on edit option in Current domains
>>> In here you can add the directory based on your requirements. You can either choose from a Use existing home directory or can go with Manual Config
>>> When you wish to cancel the Addon-domain simply click on delete. It will ask for the confirmation for the same. Once you confirm it, it will be deleted.
>>> Now that you have deleted your addon domain. You can see no Addon-domain will be left.