HTTP Error 500.19 Internal Server Error

In the current world, the internet is been used in all the field and today you can find that more and more people are using the internet services. And for this reason today you can see that a lot of business are using the website and web hosting services. And today if you are having a website then it is very easy to get connected to the people all over the globe. And moreover, you can also showcase your business products and services to the people on the internet. With the help a website you can even do marketing and also branding of your products.

And today if you are using a website based on Windows operating system, then you may have some doubts, confusions and some issues related to your Windows hosting. So sometimes you may come across HTTP Error 500.19 - Internal Server Error issue on your website. So, in that case, you no need to worry about it. All you need to do is just follow the below steps and you can resolve the issue by yourself.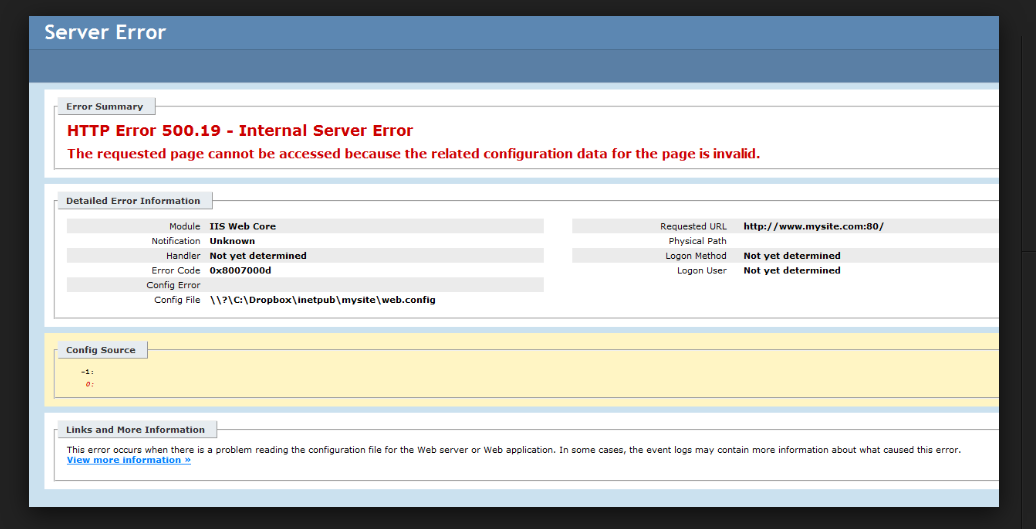 The requested page cannot be accessed because the related configuration data for the page is invalid

Here is the reason why this HTTP Error 500.19 - Internal Server Error occur:

---> This problem occurs because of Web.config file contains a XML element.

---> This problem may occur some duplicate entry for the configuration section setting at a higher level in the configuration hierarchy

---> It's occurs your PHP and ASP.NET version are not checked

---> The default process identity in IIS 7.0 does not have sufficient permissions to open the Web.config file on a remote share.

---> This problem can occur when the specified portion of the IIS configuration file is a higher configuration level, so this is what will give internal server error.

---> In IIS_IUSRS group does not have permissions for the ApplicationHost.config file, for the Web.config file, or for the virtual/application directories of IIS.


Follow the below steps and screenshot to check:

>>> Login Plesk panel

>>> website and domain

>>> Hosting setting

>>> Web scripting and Statistics

>>> Enable permissions like, PHP support PHP version, CGI support, Microsoft ASP support, customer error documents etc. You can refer the below image.

>>> Click on ok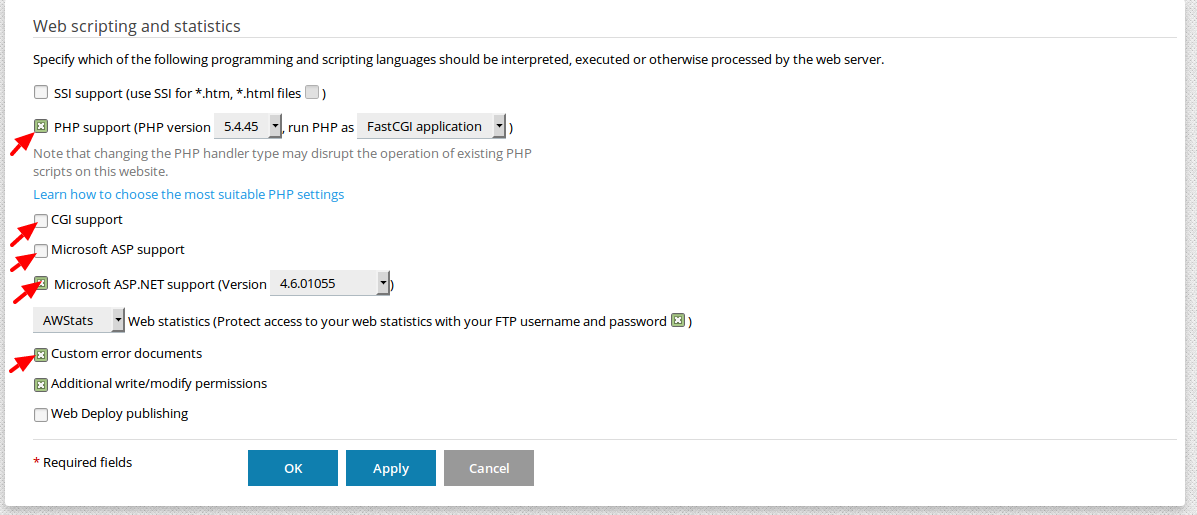 If you are looking to host your website on the Windows-based operating system then here at HostingRaja we provide you with the best Windows hosting options at an affordable price. With our Windows hosting, you can easily manage your website by using the ASP, .Net framework. Not only that we also provide amazing features and discounts upto  55% on our Windows hosting servers. So what are you waiting for get the best Windows hosting for your website from India's #1 Windows hosting provider.