Magento Common SEO Issues And How To Solve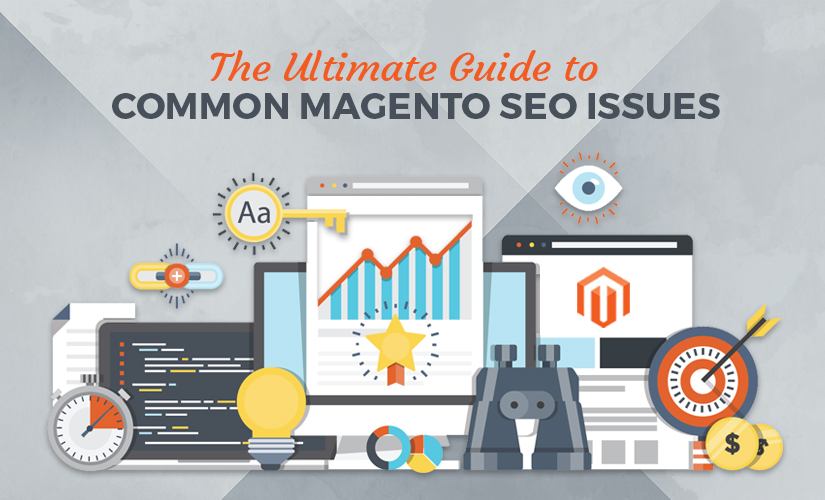 SEO technique assists the search engines to discover and rank your website much higher than millions of other distinct websites. Magento is an ultimate platform for all who prefer to build an online stores which requires visitors,you can make this magento platform much powerful using SEO which plays a significant role to turn those visitors into customers, which is almost impossible to achieve without having an optimized website. The most common magento issues are listed below and we have explained how to resolve those issues permanently and get good ranking on search engines.


1. Page Speed : Nowadays most of the visitors are coming from mobiles, this slow load speed and performance can negatively impact organic search performance. So you need to take care of the following things in order to resolve this load issue:

          a) You need to have a sufficient RAM in your Server.
          b) You need to compress css,js and optimize your mysql database.
          c)  Kindly Disable the Magento logs and enable log cleaning in the magento
               backend.
          d) Maintain Proper coding structure without any errors.


2. Eliminate Duplicate Content : Make sure that there is no duplicate contents
present inthe website. Let's elaborate this scenario by one example, you will be selling a T-shirt of various sizes, the mistakes which is normally done by many of the owners is that they will split the same product in to many with same descriptions for showing full products on their websites which will be treated as an series of duplicates from google. So to resolve this kind of issue you need to write unique descriptions for each products moreover you can also use the canonical tag and link your duplicates to the original product. This will help Google to see that you've created copies on purpose. Thus, you'll avoid any negative consequences.


3. Utilize Header and title tags on appropriate pages : Magento automatically creates title tags and misuses page header tags. It simply assigns the product name as title tag but it is of no use as per the SEO perspective. If you are running thousands of products on your online store it is not so easy to optimize every single product title tag, So we suggest you to create different product groups so that you can predefine title tags and assign them to specific product groups.


Let me give an example to know this thing in a better way, say you are selling the T-shirt product. You can set a series of title tags based on a particular product type, color, gender, and even brand. By this way, you can easily categorize your t-shirts and help Google see them more clearly.

When comes under Header Tags you need to make sure that you're using H1, H2, and H3 tags on your web pages without keeping it blank and make sure to have a clear hierarchy.

4. Optimize the Product Page URLs : You have an option in your Magento settings to only use top-level product URLs, rather than including every category and subcategory hierarchy in the URL itself. We suggest you to follow the same. Make sure that products are only based on top-level URLs. This is done by using Magento's settings. More precisely, go to Settings > Configuration > Catalogue > Search Engine Optimization. There, select 'No' for the option that says 'Use Categories Path for Product URLs.' There's an option in the back-end of Magento to set permanent redirects if the URL is changed we suggest you to set it to yes in order to avoid potential rewrite issues.


5. Make Use of 'Nofollow' Links : If you are having thousands of pages on your websites and you want to make some pages to be not indexed by the search engines then make use of nofollow adding to those links. One more thing don't forget to remove those links from your website's sitemap which may still point Google to the pages that don't need to be indexed.

6. AJAX Navigation : Make use of AJAX navigation which will enable you to filter the products featured on your website without changing the URL, leaving only the original category page. If you're using AJAX for layered navigation, make sure that the filtered links aren't actually linking to a URL in the background, as this can cause additional issues related to the dynamic pages being indexed, even though the URLs aren't actively seen when browsing the site.

7. Pagination : Magento product list pages will be break down into many pages using pagination, which will usually mean the same content is being used on different variations of the same page. These pages should really make use of the rel next and prev tag, which was introduced by Google to help webmasters to illustrate that they are well paginated pages.

8. Optimize Homepage Title, don't use default descriptions and use Relevant Keywords : In magento by default homepage has default title i.e Home, but you need to use a highly optimized name that includes at least one keyword, in addition to your store's name.This option can be found at: System > Configuration > Design > HTML Head > Default Title.


When we come across default descriptions, you need to optimize the default description that is generated on every page without meta description. This can be easily done by visiting System > Configuration > Design > HTML Head > Default Description.


The default keywords will be appeared wherever meta keywords are missing from the pages. It is always better to write meta keywords for each and every category, product and CMS page. You can change this by visiting to System > Configuration > Design > HTML Head > Default Keywords.


9. Set Up a Sitemap : A sitemap is nothing but a small text file that will be present in your website's background and provides valuable information to search engines whenever you do any changes. It tells the search engine crawlers what relevant pages to index and give more priority based on content and its frequency of updating. You can easily create a new sitemap if not found in Magento by going to:


Marketing > SEO & Search > Site Map > Add Sitemap > Put the details > Save & Generate.


10. SESSION IDS : Sessions ID pages are mainly used to record a user's each session, commonly when they move from one domain to another. These pages can cause all kinds of duplicate content issues if they are indexed and there's no limit available to the amount of URLs that can be generated.


If you do have an issues with session IDs, then we  suggest you to use either the robots.txt file or meta robots tags to prevent the pages from being indexed. This will also allow you to submit removal requests if the pages are indexed.