Process to Install Windows 7 in VMware Workstation in Windows VM

Through VMware virtualization platform you will be able install multiple OPerating Systems on desktop as well as laptop. Suppose if your computer is running on Windows Vista and if you want to use Windows 7 for any purpose you will be able to install the guest OS of Windows 7. You will be able to install the entire virtual domain through a single computer.


The best part with VMware Workstation is that you will not have purchase different computers for any type of needs all your needs can be fulfilled through a single computer. The only thing required is to have a computer which has a lot of memory. This is the thing required to unlock the computer from a single OS to multiple OS.


Suppose if the current configuration is large enough with 64 bit computer with quad core processor and 8 GB RAM. Then it will allow to run 10 VPS hosting machines together. If your computer is of 2 GB RAM then you can run 1-4 virtual machines together. You will be able to experiment with the memory settings depending upon the specifications of the computer you have.


There are some requirements for VMware installation these are discussed below:
The first and foremost requirement is 1.3GHz or faster CPU.

VMware supports multiprocessor systems

Compatible with personal computer of standard x86

For virtual machines operating system installation media for virtual machines

There is a support for Windows 7 Aero Graphics

For AMD Athlon 4200+ and above there is a support Intel Dual Core.

nVidia GeForce 8800GT and above 

ATI Radeon HD and above

At least a memory of 3GB of host system memory.
Steps to Create a Virtual Machine


The first step is by opening a VMWare Workstation from the start menu. You can also type the "VMware" in the search field that is provided and select the VMware Workstation from the list of programs that are provided.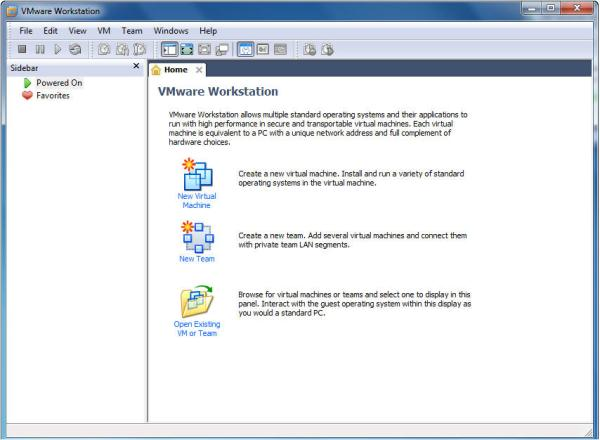 Now you have to click File then New, Virtual Machine. A wizard will appear for creating a new virtual machine as show below.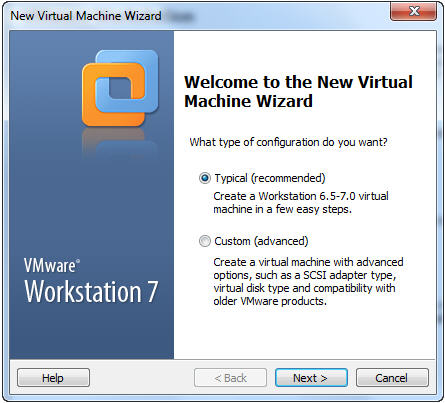 Now you have to choose the "Next" button and then choose you would like to load it in Windows 7. You will have option to load it by installation like (DVD) or you can use an ISO image as well.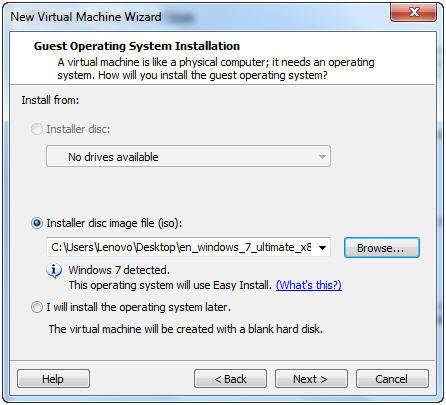 Next step is to load the Windows 7 from an ISO image
Now you have to select the "Installer disc image file (ISO)" and then you have to browse where the Windows 7 image is residing. Then you have to click "Next" and then enter the Windows 7 product key which has been shown below. You can even personalize the Window 7 with a username as well as password.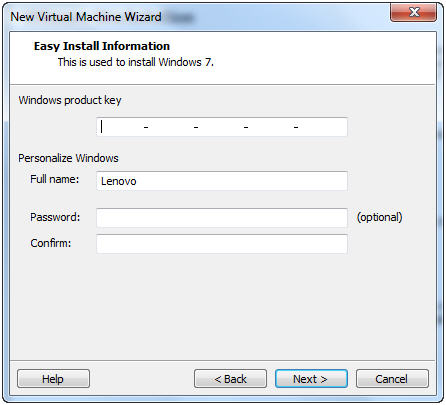 After entering the Product key
You have to enter the product key and enter the virtual machine name and choose the location where you would like your virtual machine to reside. You will simply be able to accept the defaults and then move forward in the installation process.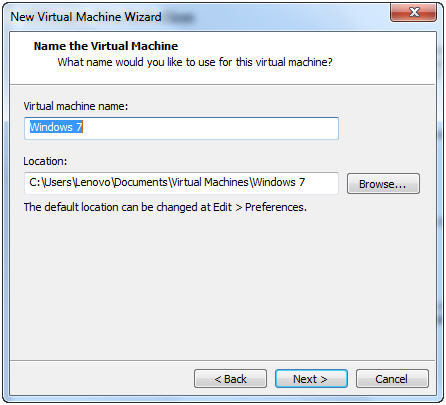 After entering the virtual machine name and choosing the location of the virtual machine of where it needs to be loaded. You can accept the defaults and then move forward in the installation process.
Now you have to click next and then accept the default size of 40GB. You will have an option of increasing or decreasing the size according to your choice. When you experiment with different you will be able to get the best results for Windows 7 virtual machines.You will also have an option of splitting the virtual machine in 2 GB files. This will help you in moving the virtual machines between computers.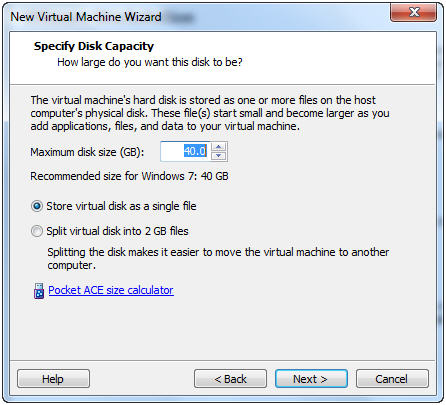 After specifying the disk capacity you will be able to customize the virtual machine hardware before bringing the Windows 7 virtual machine Operating System. You will also be able to add the disk space, serial ports as well as printers. You will also be able to remove the hardware such as a floppy drives and sound cards.Both the images are shown below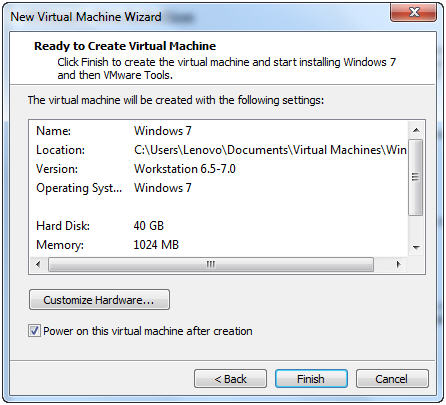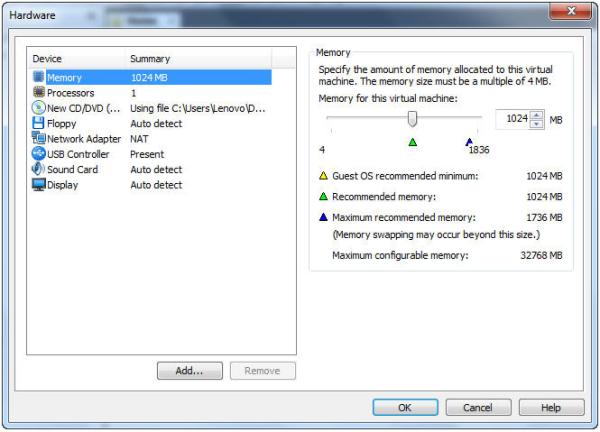 After clicking OK and Finish Windows 7 begins to download. After entering the product key, VMware Workstation enters the easy installation mode. After this step Windows VPS is installed.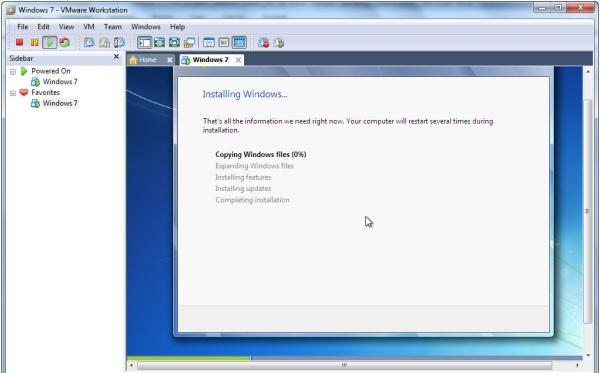 In the current version of VMware Workstation the VMware tools are installed automatically hence you will not have to worry if you need to install the VMware tools or not. The following components are installed in VMware tools.
VMware Tools service

VMware user process

VMware device drivers

VMware Tools control panel
How to Work with a Virtual Machine
Once the virtual machine is ready you will be able to use it like a physical computer. If you choose the option of View, full screen you can work with it in a full screen mode. There are other options as well while working with a virtual machine like power off, power on, suspending a virtual machine in memory, snapshot of a virtual machine. Below is the image of Windows 7 Virtual Machine.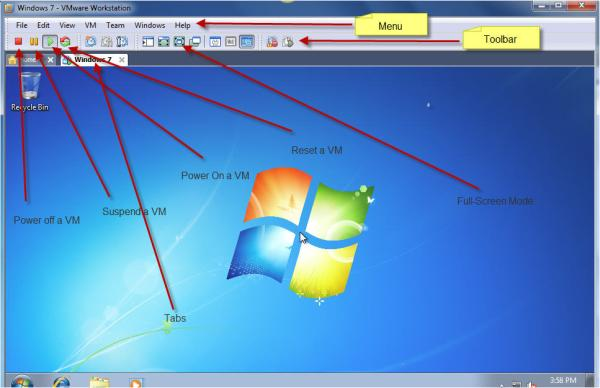 Once you are familiar with VMware Workstation, you can experiment with different settings, test new drivers as well as softwares on Windows. You can also use the VMware Workstation for preparing the certification programs you wish to achieve.