Windows VM -  How to Restart Specific Windows Service

Nowadays more and more people are using the website for their business or for their personal use. The main reason behind it is that today a lot of people are using the internet services. And today if you have one website then it is very easy to showcase your skills and also your business products and services. And today if you are using a Windows hosting services for your website and if you want to restart specific Windows service you no need to worry about it. All you need to do is just follow the simple steps that are mentioned below.
If you have a Windows VPS hosting with us, then you can use the following method in your VPS server.

Sometime, you may have issue with services running on your Windows server, then rather than restarting the complete server, you can restart the specific windows services to troubleshoot the problem.

To restart any service on a Plesk Windows account, Log in to windows VPS Hosting account

1)  Navigate to the Tools & Settings tab, which can be taken from the menu at the left side.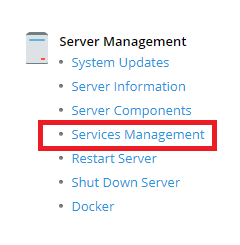 2) Select Services Management from under the title Server Management.

3) Locate the service you would like to restart the list of services.

4) Click the restart icon on the service

Get your own Windows VPS hosting server from HostingRaja at an affordable price, and also get amazing features and huge discounts on our Windows hosting servers. With our Windows hosting, you get amazing features like- Backup & Restore, WebMail, Plesk, Ajax Tool Kit. Not only that we also provide RAID 10 Ultra-Fast Hard Drives. And we also provide 24/7 customer support. So what are you waiting for get your Windows VPS hosting server today from HostingRaja.