How to Schedule a Task in Windows Hosting

What is the Scheduling task?

Schedule task in a windows hosting is a process which runs the scripts automatically based on the time which you have applied which makes you to easy to manage without doing the manual process and the scripts depends on your requirement. Through Scheduling Tasks we can able to execute the task specified time intervals. We can able to execute pre-defined or after specified time intervals.

What is the  Benefits of Scheduling task.


Its provide Increased throughput and  Decreased turnaround time.

Its provides Hierarchy in workflow

Through Schedule task we can Track the Data.

Through this we can prevent the error.

How to create the Scheduled task for Subscription?

To create the Schedule task  you need to follow below steps.

Step 1:  Login to plesk panel => Go to website and domain

Step 2 : From there click on Scheduled task => Click on Add task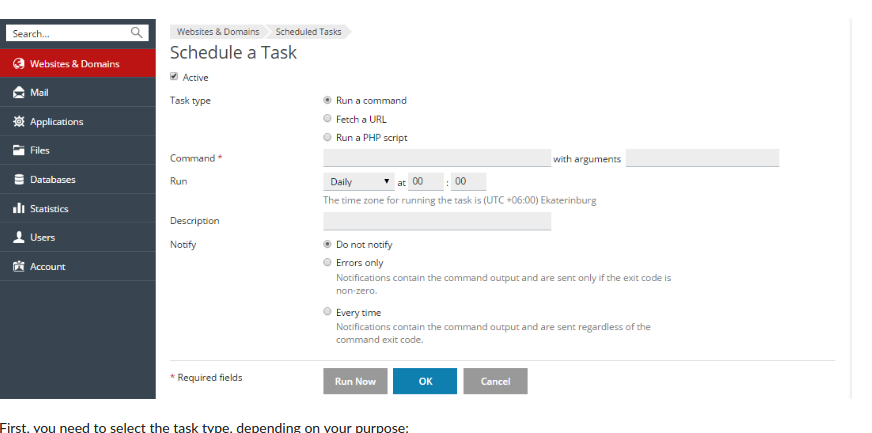 Step 3: you should select the mention task type , Its depends on your purpose:

Command:  Provide the complete path to the which you want to run.

Fetch a URL:  In this area you have to provide the URL only.

Run a PHP script:   Provides the complete path to your script relative to virtual host directory. Once You will  click the browse icon to it will take the  script file.

Step 4: In "Run" Section Enter the timing at what time you want to run this task.

Step 5: After that click on Ok.


To view all Scheduled tasks which you have create for subscription.

Steps:  Click on Websites & Domains => After that click on Scheduled Tasks