How to Restart Services in Windows plesk VM

At present, you can see that each and every business are using the website for their business. The reason why every business is using website is due to the internet. Yes, today a lot of people are using the internet services. And if you have a website then it is very easy to present them and show the people around the world about your business services and products. And today if you have a website then it is an asset for your business.

Today if you are using a website for your business based on Windows hosting then you can easily manage and handle your website. In Windows hosting you get .NET framework where you can develop your application, and it also very easy to use with greater scalability. In windows, you also get front page extensions. And today if you are facing any issues with your server and if you want to restart your server then here is the information on how to restart in Windows Plesk VPS.
If you have a Windows VPS hosting with us, then you can use the following method in your VPS server.
Sometime, you may have issue with services running on your Windows server, then rather than restarting the complete server, you can restart the specific windows services to troubleshoot the problem.
To restart any service on a Plesk Windows account, Log in to windows account
1)  Navigate to the Tools & Settings tab, which can be taken from the menu at the left side.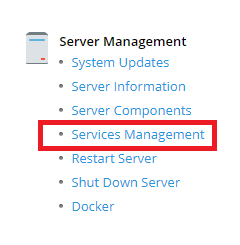 2) Select Services Management from under the title Server Management.
3) Locate the service you would like to restart the list of services.
4) Click the restart icon on the service

Get the best Windows VPS hosting option for your website here at HostingRaja at an affordable price. We provide best Windows hosting with best access compatibility, .ASP with dynamically database driven pages and a lot of other amazing features are available. We also provide discounts upto 55% on our windows hosting servers. Along with that we also provide 24/7 customer support so if you find any issues with your hosting you can call us and we will help you out in resolving the issue.