PHP version change or WordPress version change

Why change the PHP version for WordPress?
There are many reasons why we should change the PHP version as there is a possibility that themes, plugins and widgets might not be supported by the current PHP version. There is also a possibility that your website might have been developed in 7.0, but the default PHP is 7.4 in that case your website might face many issues. In such cases, you need to upgrade the PHP version to 7.4 so that the website can work.
When to downgrade the PHP version?
You will have to downgrade the PHP version if your website is not supporting the latest version, suppose your website is built on the PHP version of 7.2 but here at HostingRaja we provide the latest version of 8.0 in that scenario you might face problems in running your website. Hence we will downgrade the PHP version of WordPress hosting so that your website can run smoothly. 
When to upgrade the PHP version?
In each upgraded version many of the bugs have been fixed which were previously there in the old version or while in the process of website transfer in the  Hence you can upgrade to the latest version so as to keep the website run smoothly.
List of PHP versions supported?
we are supporting PHP version,
PHP version 5.6
PHP version 7.0
PHP version 7.1
PHP version 7.2
PHP version 7.3
PHP version 7.4
PHP version 8.0


Steps to change the PHP version

STEP 1
: Login to your Hostingraja ClientArea where you will be given few options you can choose the website name like follow the below references, Select your product such as 
"example.com". 
STEP 2
: In the second option you will be able to see few options in the updates section such as Wordpress Upgrade/Downgrade, Upgrade/Downgrade PHP version, Access Logs / Error logs/ Clear Cache/ Update Core Files/ WP Admin Password Change/ WP ReInstall. Click the
Upgrade/Dowgrade PHP version
option.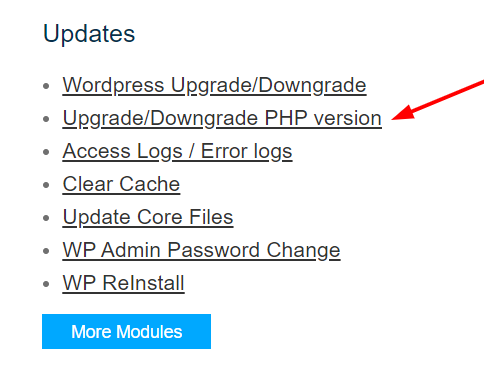 STEP 3: You will see a drop-down menu like with different numbers choose the desired PHP. You can select the PHP version as per your wish and click the Change PHP Version button.