How to create a cPanel account in WHM


What is cPanel?
==>cPanel often referred to as control panel tool which will assist you for manage website hosting account through a web interface as an alternative to a console. With cPanel you are able customizing your hosting account tasks easier and faster.
Jump to a quick guide on how to create cPanel account for your customers.
What is cPanel?
cPanel is one of the online control panels where it helps its users to manage Linux hosting service. With the help of cPanel, a user can easily control any sort of administrative tasks of hosting like - creating a website, resetting passwords, creating and managing emails, setting mail forwards, managing add-on domains and subdomains, uploading and managing files etc.
What are the key benefits of cPanel?
Since cPanel allows users to manage their files and data - It is a simple GUI (graphic user interface) which acts as an enabler for managing system admins when you are not looking to use a website builder. For this reason, cPanle has become a user-friendly managing tool when compared with its competitors.
1. cPanel allows you to add on domains and manage email according to hosting plans
2. It also ensures that your data is secure along with backup and recovery options; all this without compromising on scale
3. With cPanel you get numerous add-ons and APIs with Softaculous integration where it allows users to download WordPress, Joomla or Drupal updates
4. Gives control over FTP accounts to upload, delete or move files on the server
5. Much more economical in comparison to Windows
6. Provides users with web related stats like visitors/month through AWS stats
What is WHM?
WHM stands for Web Host Manager and it is an administrative access tool for the backend of the cPanel account. With the help of WHM one can easily create a cPanel account to avail his/her hosting account. Not only that it also allows them to manage much light to heavy sites with the help of WHM. Using WHM one can easily sell hosting services and can also easily manage multiple cPanel with the option to modify, upgrade or even downgrade an account and monitor usage of bandwidth as well.
Features of cPanel:
1. Email: Through cPanel you can create email accounts, one you will create your email hosting account after that through cPanel you can view/modify your existing email accounts, you can change email password and also you can set up mailbox quotas. Through this section, you can forward from one mail id to another mail id.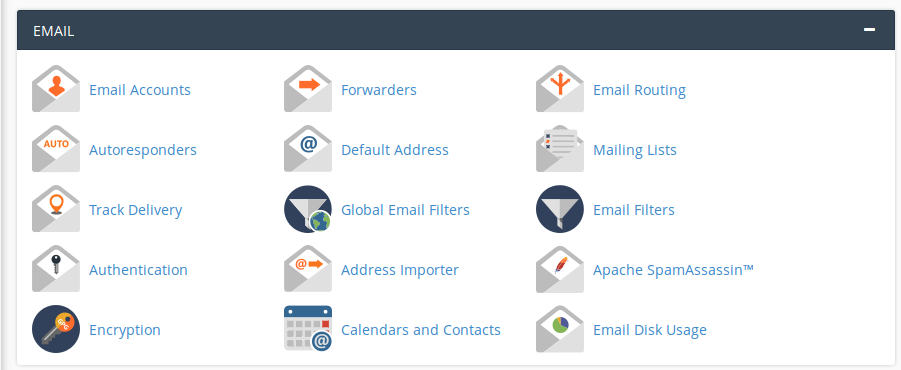 2. File Management:   In the files Manager section of cPanel, you can take the backup your complete hosting account, view and modify files stored in your hosting account, you can see your disk usage, and create/manage FTP accounts.

3. Security:  In this section, you can protect your entire directories with a user-specified login name and password. Through this section you will get SSH access allows a user to connect and transfer files and also you can generate CSR for your domain in this section only.

4. Domain Management:  Through this section, you can create addon domain or add a domain to hosting, Parked domain and subdomain. You can make an alias for your domain. you can redirect one domain to another domain. In this section you will get Advanced Zone Editor through this you can add/modify A record, MX record, and CNAME.

5. Database:  In this section, you can create a database along with database users. Through PHPMYADMIN you can import and export the database.

What is WHM?
==>WHM is the managerial console for Cpanel based internet web hosting servers. It allows to create and manage cPanel.
Features of WHM:
1.  Its provide High Security.
2.  It is Cost Effective.
3.  It is Time Management through this you can save time and effort.
4. Effective Use of Resources
5. Through WHM you can manage your clients easily.
How to create a cPanel account in WHM:
If you want to create cPanel account in WHM so firstly you have to Add a package to that account. Kindly refer the below details to add a package.
1. Log into your WHM
2. Click "Add a Package" under the "Packages" heading in the left menu search option.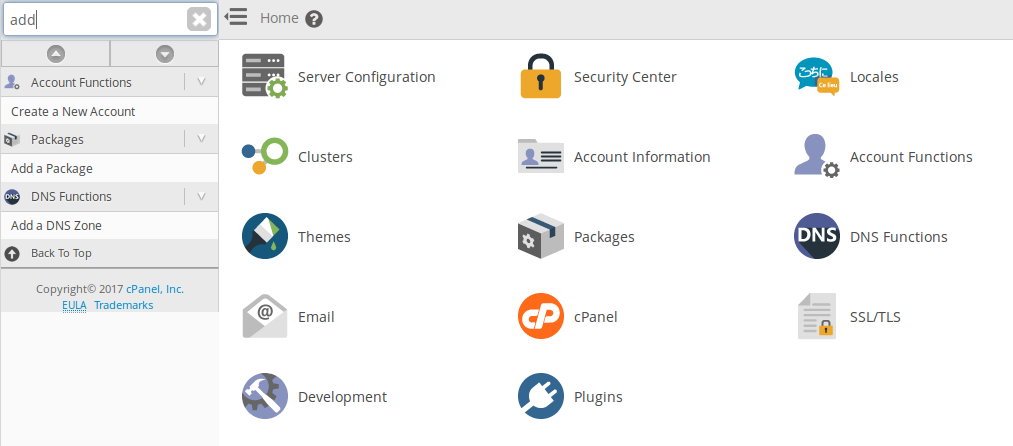 3.  In the package creation page, first, enter a Package Name and assign limits to all resources.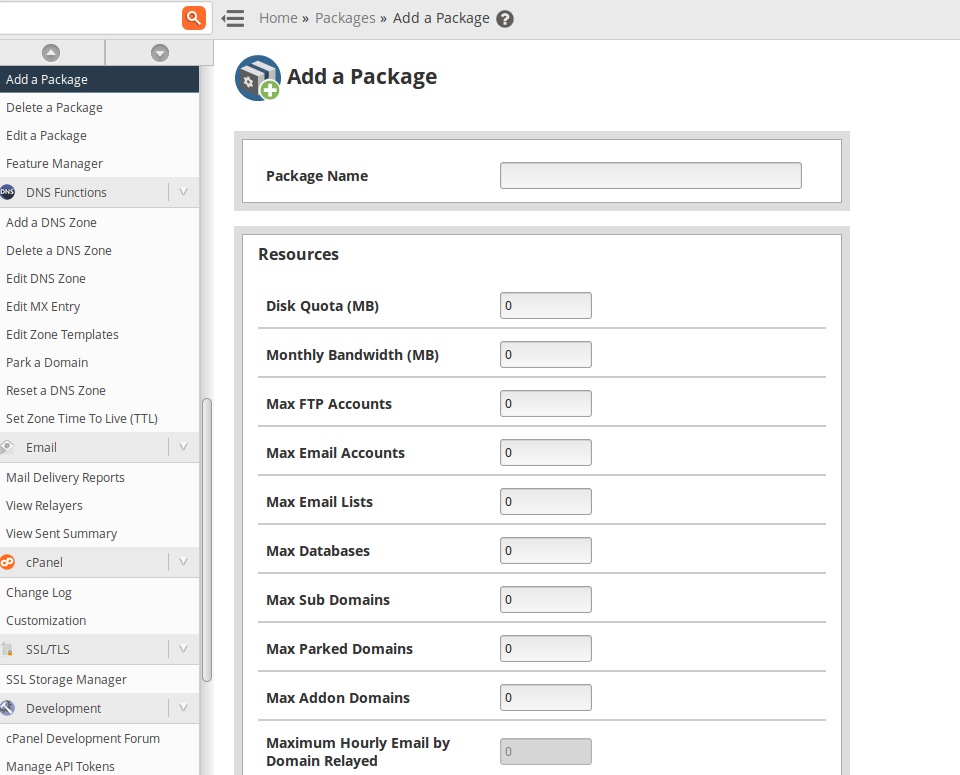 4. Once you will assign the limits to all resources after that click on ADD.
Once you will create a package you have to create an account for that domain, Kindly refer the below details.
1. Log into your WHM
2. Click "Create a New Account" under the "Account Functions" heading in the left menu search option.
3. Fill in the details for the new account.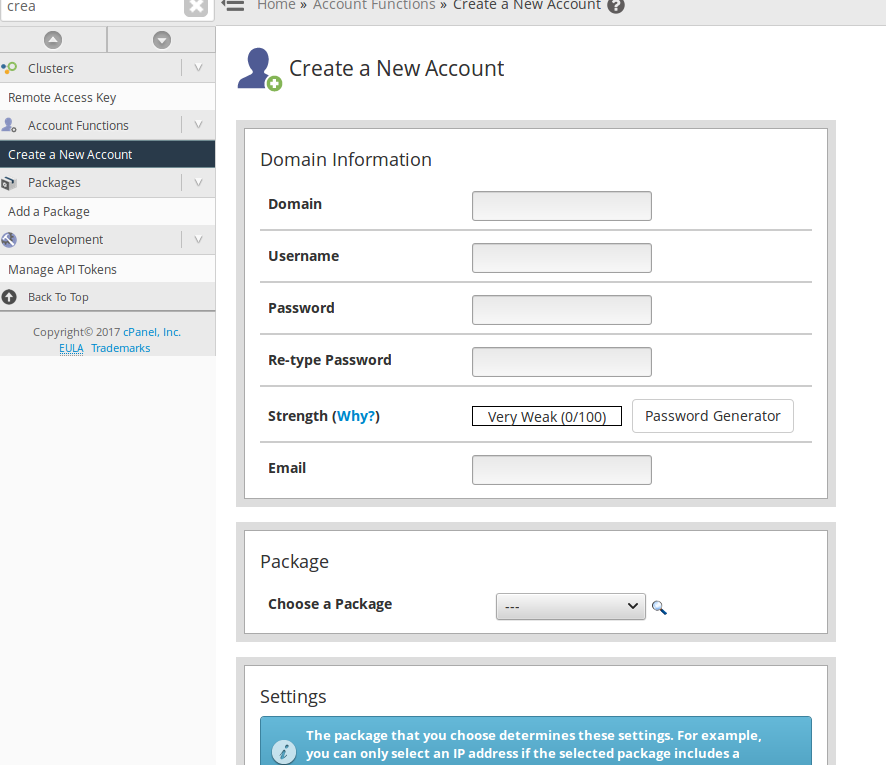 4. Once you will assign the information about that domain after that click on CREATE.
After that, you can able to see that cPanel account in List Account in the left menu search option.