INODE
What does Inode?


An Inode is a data arrangement used to save some metadata like a record. Inode number describes the collective number of files and folders being in your web hosting account.


What does the Inode Limit?


We have a limit of 25K and the 250k limit on all our Shared/Reseller accounts. Once the hard limit vestibule is reached data upload will stop working. So you cannot get new emails or create files on your shared server plans.


Inode Count is Exceeded
What is the issue?
Emails are not sending and receiving due to inode limit is exceeded for particular hosting plan .


You may not be able to create files or You may not be able to upload images or having a issue with hosting account.

You may not be able to install any website or application.
Why this issue happens ?
Customers are not familiar with Inodes if they are using their hosting in normal plans such as for a basic or intermediate website and normal email use.
INODE: Inode is a data structure in Linux file system, Which holds all the information about your files.
inode count means, more files. This inode count includes emails, files, image files, data files, mysql files, others files, JS/HTML/CSS files, whatever you create in your account is all calculated together to find the total inode count in your account.
This issue is happens due to mails are saved in inbox and sent folder so these files also calculated inode. Once inode limits exceeded  mails are not saved due to no space it will bounce back or its not receiving
What are the inode limits with HostingRaja ?
| Plan Name | Inode Limit |
| --- | --- |
| Starter Hosting Plan | 25,000 |
| Silver Hosting Plan | 50,000 |
| Gold Hosting Plan | 75,000 |
| Unlimited Hosting Plan | 100,000 |
| Prem SME Hosting Plan | 125,000 |
| Prem CORP Hosting Plan | 150,000 |
| Prem Ent Hosting Plan | 175,000 |
Updated On June 13th, 2019 ?
| Plan Name | Inode Limit | Updated Limit |
| --- | --- | --- |
| Unlimited Hosting Plan | 100,000 | 150,000 |
| Prem SME Hosting Plan | 125,000 | 200,000 |
| Prem CORP Hosting Plan | 150,000 | 250,000 |
The super-fast Enterprise hosting comes with very powerful servers and huge processing power as big as a any VPS or dedicated servers. The limits of Enterprise shared hostings are as follows.
| Plan Name | RAM | CPU | Disk | Entry Process | Inode Limit | No of Sites | Amount |
| --- | --- | --- | --- | --- | --- | --- | --- |
| Enterprise Powerful Server Hosting P1 | 4 GB | 4 Core | Unlimited | 50 | 4 Lac | 2 | 1500 |
| Enterprise Powerful Server Hosting P2 | 5 GB | 5 Core | Unlimited | 60 | 6 Lac | 4 | 2000 |
| Enterprise Powerful Server Hosting P3 | 6 GB | 6 Core | Unlimited | 80 | 8 Lac | 6 | 3000 |
Virtual Machine
VPS Server => no inode limit
Dedicated / Cloud
Dedicated solution => no inode limit
Email Hosting
Email Hosting Starter                               25,000           
Email Hosting Bronze                               35,000           
Email Hosting Gold                                   50,000
Inode limits in our Plans
List of limitations?
Yes, Each account created by resellers have limitation on inode and disk space.

Inode Limits:
HR_RS_Starter - Inode - 1,75,000
HR_RS_Silver - 3,00,000
HR_RS_gold - 5,00,000
---
Is there any cheap plans with WHMCS & cPanel & WHM?
Yes, We provide access to cPanel & WHM.
---
Can I upgrade my reseller package based on the usage ?
We encourage our customers to go with bronze or gold reseller plan, You can upgrade your hosting plan to any desired plan based on your company's growth
---
Know more about plans
As a best reseller provider in India, We have to strive hard to maintain our position as a top hosting reseller in India . If you have any questions on Reseller Web plans, please contact our award winning 24/7 support. We have our data centers located in multiple locations across global, You can ask for desired DC
View Inode usage via cPanel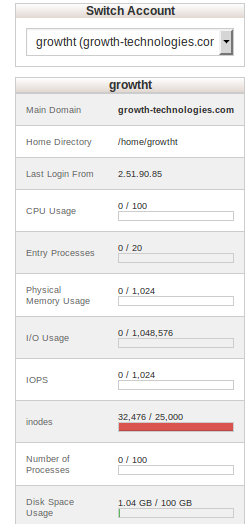 How can I solve this problem ?
1. Delete all unwanted files from your hosting account. You may have cache or backup files, delete all of them.
2. Empty your trash folder.
3. Delete old unwanted mails.
4. If you can't do the above or the above steps does not solve the problem, then you can upgrade your hosting account.

How to resolve permanently
You want to permanent solution kindly contact our Support Team for the upgradation to higher plan CLOUD OR DEDICATED server, because in this plans inode will be unlimited  and your business will fine without any issue.
Kindly manage your account and remove the unwanted files and emails through resolve your issue.
View Inode method through cPanel


login to your cPanel home page. While the left bottom, you can see the 'File Usage' stat which is the Inode usage of your account.


Decreasing Inode usage by cPanel hosting


Most people will not want to be familiar with Inodes if they are using their hosting in normal conditions such as for a basic or standard website and regular email use. But, to ensure that everyone our consumers get a consistently high level of service we have performed inode limits per account for decreasing resource abusers in our Shared Hosting also Reseller hosting.


Not only inode overages are caused by abuse though. That could just be that you must to take a part of a clean-up of your hosting files. If y'all action issues created by high Inode usage then the article is to help you minimize the number of inodes on your account.


Here do some actions to decrease the inode number limit.


Remove redundant folders and data

Check the data and folders manually and pick on if this file is needed or not. While in case the data does an old backup archive or if this folder does create for testing or staging plan, you may kill it or download it locally via FTP or cPanel >> FileManager and delete it from the server.